Are you having a cocktail party or backyard barbeque?  How about a small and intimate wedding? For these types of occasions, CoolBandLuke is proud to present a smaller, acoustic configuration we call "CBL Acoustic."  Typically comprised of acoustic guitar, percussion, and our three vocalists, we play alternative and unexpected acoustic versions of songs not normally heard that way.  Check out our song list page on this site . . . and now imagine many of those songs peformed acoustically!  Our CBL Acoustic show will add fabulous ambience and "WOW" factor to any event. And, yes, it's great for listening and small-group dancing.  And, because this configuration features fewer players and requires less set-up, we can accommodate your smaller budget and smaller space.  Contact us at info@coolbandluke.com to ask us about having CBL Acoustic at your next event! 
Be sure to check out our PUBLIC EVENTS page to check out CBL Acoustic's next public appearance.  We play regularly all around town, so come see us!
CLICK "HERE" to see CBL Acoustic perform "Dynamite!"
CLICK "HERE" to see CBL Acoustic perform "Twist and Shout!"
CLICK "HERE" to see CBL Acoustic perform "Faith" at a recent event!
Click "HERE" to see a teeny clip of "My Sharona!"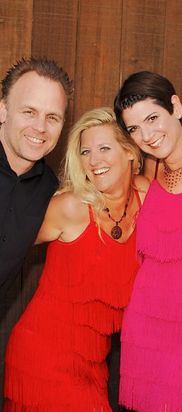 -----------------------------------------------


CALL FOR MORE INFO
AND BOOKINGS:
24/7 - 858.430.3522

OR EMAIL:
INFO@COOLBANDLUKE.COM